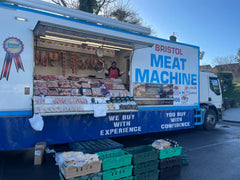 Searching for high-quality meat?
Look no further! In this article, we'll guide you to the best butcher near you in Bristol, offering exceptional meat delivery and unbeatable deals. Whether you're a meat connoisseur or simply looking for top-notch cuts, we've got you covered. Get ready to explore the ultimate destination for premium meats and discover a world of culinary delight right at your doorstep.
Find the Perfect Butcher Near Me
Discover the Finest Butcher in Bristol: When it comes to finding the best butcher in Bristol, quality is key. We pride our butcher shop that prioritizes customer service & prime meats to ensure freshness and exceptional flavour.
A Butcher That Delivers:
In today's busy world, convenience is paramount. Thats why we now offer meat delivery services. We will bring premium cuts right to your doorstep, saving you time and effort.
Unbeatable Meat Offers and Promotions
Exclusive Meat Offers: Who doesn't love a good deal?
Stay on the lookout for our butcher shops that offer irresistible promotions on our premium meats. Whether it's discounts on specific cuts, seasonal offers, we provide the best meat offers in Bristol. We can help you uncover great deals that will elevate your dining experience without breaking the bank.
Seasonal Specials: Butchers often have seasonal specials, taking advantage of the freshest, most flavourful meats available. Keep an eye out for our "seasonal meat specials" or "limited-time offers" to uncover mouth-watering opportunities to try unique cuts or indulge in traditional favourites during special occasions.
Your search for the perfect butcher near you in Bristol ends here!
You can discover a world of premium meats, exceptional services, and unbeatable deals by shopping with us here at Bristol Meat Machine.
Our family of butchers prioritizes quality, customer service, and provides convenient meat delivery services to meet your needs. Don't forget to explore our full wide range of meat offers and seasonal specials, ensuring you never miss out on exciting flavours and enticing promotions. It's time to elevate your culinary journey with the finest meats Bristol has to offer.
Enjoy the convenience, savour the flavours, and indulge in the unbeatable quality. Happy meat Eating!